In Case You Missed It...


A large group of POCCs and lab professionals attended our November 7 Meeting at St. Joseph's Hospital in Atlanta, hosted by Karen Jenkins from Emory University Hospital - Midtown.
---

Preparing for IQCP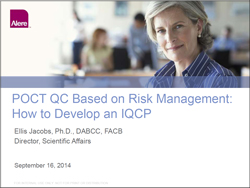 Ellis Jacobs, Ph.D., DABCC, FACB, Director, Scientific Affairs, Alere, led an interactive discussion on 'Preparing for IQCP'. In Dr. Jacobs' discussion, he talked about how:
Risk management is something laboratories are already doing.

An IQCP assesses the medical need for test, performance requirements, and weaknesses in the testing process as well as actions to address those risks.

Each IQCP is unique because the combination of device, setting, medical requirements and operators may differ between laboratories.

An IQCP is the industry standard. It depends upon the extent to which the device's features achieve their intended purpose in union with the laboratory's expectation for ensuring quality results.

Once implemented, the IQCP is monitored for effectiveness and modified as needed to maintain risk at a clinically acceptable level.
For a copy of Dr. Jacobs slides, click here or on the image on the right, above.
---

Ebola at Emory Hospital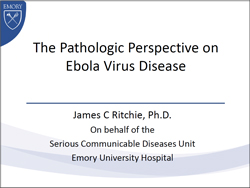 Emory Healthcare's James C. Ritchie, PhD, Clinical Chemistry, Professor. Pathology & Laboratory Medicine worked with a team at Emory University that cared for two patients with Ebola virus disease (EVD) in August. During is talk, he discussed:
Background information on the Ebola Virus

Clinical Characteristics of the Bola Virus

The Cases at Emory
Dr. Ritchie was kind enough to provide his presentation to GAPOCC members. To view or download a copy of the slides, click here or on the image to right.
---
More photos from our November meeting...
| | |
| --- | --- |
| | |
| To view a larger image, click on the image | To view a larger image, click on the image |
| | |
| To view a larger image, click on the image | To view a larger image, click on the image |
---
Save the Date

Trimark POCT Conference
Point of Care/Critical Care Testing:
New Instrumentation and Management of Patient Results
Monday, March 2, 2015
Atlanta, GA I Trimark Website

Watch your emails and bookmark the Georgia POCC Network website for more details.