Notes from our May 16th, 2008
meeting at the Carolinas Medical Center Main Campus in Charlotte
WELCOME:
After a great breakfast sponsored by Tim Leahy (LifeScan) the group was welcomed by the gracious hosts for the bi-annual meeting, Susan Griffin, Robin Steffenson, and Pat O'Rourke. All of their hard work and planning was evident and seriously appreciated.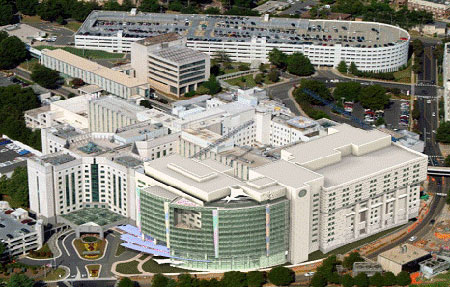 Rita Ward, Director of Carolina's Medical Center, extended the welcome and recognized the under estimated, underappreciated value of Point of Care Coordinators in the patient care process. Realizing the idea of bedside testing is not going away, the challenge was made to the coordinators to continue moving forward to reshape how medical care is delivered.
BUSINESS:
A brief business meeting was conducted. Sherry Gant, President of NC POCT Network, introduced Sheila Cruthis and Kim Ballister, Treasurers of NC POCT Network, who gave a treasurers report.
Year 2007:

Dues collected $340

Expenses $1491

Income (vendors) $2150

Balance $3975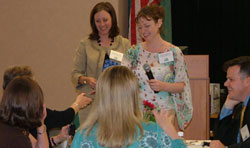 Shelia and Kim announced the fall meeting will be held at Moses Cone Health System, Wesley Long Community Hospital on October 3rd, 2008, Greensboro, NC. Please make plans to attend! Also, encourage anyone who has never attended one of our meetings to join in and experience the camaraderie and fun. The fall meeting will have a "tailgating" theme with meeting participants encouraged to wear their favorite sports team attire.
Topics for the meeting will include 15 minute vendor presentations in the morning and after lunch a representative from CAP will be on hand to address regulatory issues. Please submit questions prior to the meeting to Shelia (sheila.cruthis@mosescone.com ) or Kim (kim.ballister@mosescone.com).
Joyce Bowers is working on a test menu sheet which will include each facility and a list of tests with instrumentation to be available on the website.
Speakers:
Dr. James Nichols, Associate Professor of Pathology at Tufts University School of Medicine and Medical Director of Clinical Chemistry at Baystate Health, presented "Point of Care Testing in the ED: Performance Improvement and Evidence-Based Outcomes"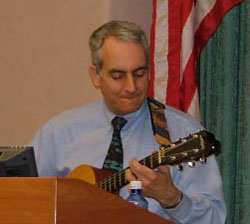 Dr. Sheldon Campbell , Department of Laboratory Medicine at Yale University School of Medicine, presented "Rapid HIV Testing at the Point of Care". Also, Dr. Sheldon inspired us with his very own original blues tune "Point of Coordinator Blues" (look for it on iTunes soon). A great way to end our session!
CLOSING:
We ended are meeting with a round table discussion with any regulatory issues and topics currently posing problems and concerns. This is always a great opportunity to learn and glean information from our knowledgeable peers.
Next meeting scheduled for October 3, 2008, Moses Cone Health System, Wesley Long Community Hospital. Check website for details.