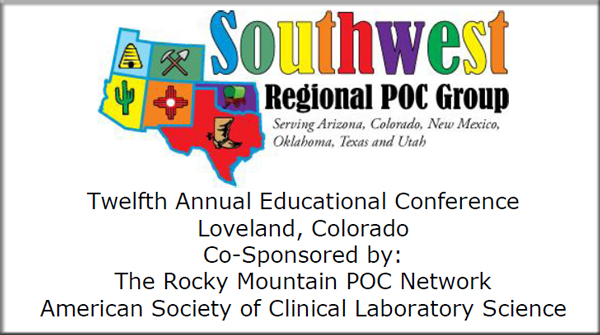 Click here of on the image above for the final brochure
September 18-19, 2014 in Loveland, CO
at the McKee Conference Center
---
Attendees I Agenda I Accommodations I Vendors
---
The event will be two days and continuing educational credits will be offered.
Attendee Registration Form - UPDATED! I Vendor Registration Form - UPDATED!
Thursday, September 18

12:30pm

Antibiotic Resistance and Infection Control Policies

Dr. Norman More

2:30PM

Break with Vendors

3:00pm

Regulations and Challenges of Legal Marijuana

6:00pm

Dinner at the Johnny Carino's

Friday, September 19

8:00am

Business Meeting with Breakfast

8:30am

LEAN techniques for Choosing POC Tests

9:45am

Break with Vendors

10:30am

The Role of Lactate in the Risk Assessment of Morbidity and Mortality

Jim Aguanno, PhD, Siemens

12:00pm

Lunch

1:00pm

Affordable Care Act and POC Testing

Mark A. Levine, MD, FACP Chief Medical Officer, Denver

Centers for Medicare and Medicaid Services

2:30pm

IQCP and Assessing Competence

Margi Haas, MT(ASCP) CMS Regional Office

3:45pm

Wrap up

4:00pm

Adjourn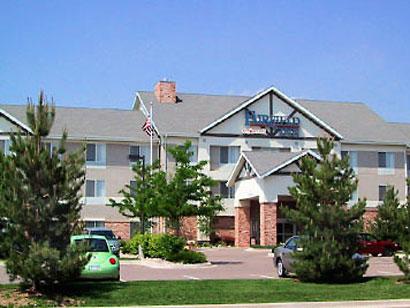 Fairfield Inn and Suites, Loveland / Fort Collins
Group Mission Statement:
Point of Care patient testing is the largest expanding laboratory activity in the industry today. Patients and providers have access to laboratory testing results with short turn around time. Although these tests are simple, they must be accurate to assure quality patient care. Educational opportunities for individuals responsible for the administration of Point of Care Testing are limited in the Southwest. With the Southwestern region of the United States serving a large geographical and culturally diverse area, it is our goal to help provide education and networking resources for point of care coordinators and others associated with the point of care industry. Our goal is to enhance point of care for the patient through education and networking.