Name of software package Orchard® Trellis™
Current version # availability: Trellis 1.180907.181012
Manage POCT from your desk: Orchard Trellis is designed for remote oversight of POCT, supporting centralized governance of a comprehensive POCT program across patient testing locations. Trellis solves many of the problems associated with POCT management by enabling remote oversight to track patient testing, devices, operator certifications, and QC.
Dashboard display: Trellis offers a real-time visual dashboard that displays: patient result volume, pending orders, instrument statuses, operator certifications, and QC statistics.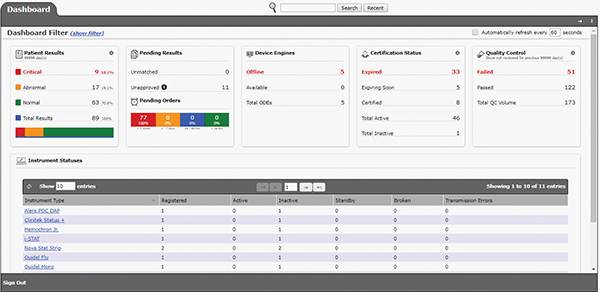 Track patient orders and review POCT results: Trellis automates security features allowing POC coordinators to ensure quality testing and promote patient safety. POCT patient results across all locations can be monitored, including: review of criticals, triggered rules, delta flags, instrument flags, previous results, and a snapshot of pending results via "heat bar." In addition, Trellis allows for variable ordering options including:
Computerized provider order entry (CPOE) from an EHR

Placing orders directly in Trellis

Creating orders based on unsolicited results from a handheld device

Support of standard bar code label printing for positive sample ID
Sophisticated rules engine: Trellis offers decision-support rules for result evaluation, order entry, and QC that streamline POCT workflow, improve efficiency, and increase productivity. Rules can be used to:
Transmit designated normal results to the EHR through auto-approval

Route orders to specific testing locations as needed

Prevent the release of patient results without acceptable QC
Central repository for QC & reagent lot tracking: Trellis tracks qualitative and quantitative POCT QC across all remote sites. Quantitative QC is monitored via Levy-Jennings graphs and Westgard rules.
QC can be ordered manually or set up to auto-order at the desired frequency

QC rules can prevent the release of patient results without acceptable QC

Intuitive filters are available to ease tracking of numerous QC graphs

Reagent lot tracking is available

Centralized management of operator certifications: Trellis tracks certification due dates for POCT operators in various locations across the organization.
Auto-calculate certification expiration dates and notify operators of upcoming due dates

Leadership can add notes for training and scan completed competency assessments

Allows for bulk changes (e.g., recertify all staff selected for a specific date)

Associate certified personnel with specific devices and locations

Designate personnel authorized for software access versus POCT device access

Restrict operators who are not current on their certifications

Instrument linearity studies: Trellis makes it easier to comply with regulatory requirements for installation studies by offering linearity/calibration verification graphing for POCT.
Inspection-ready linear regression graphs depict slope, y-intercept, and coefficient of variation

Intuitive filters are available to ease tracking of numerous linearity graphs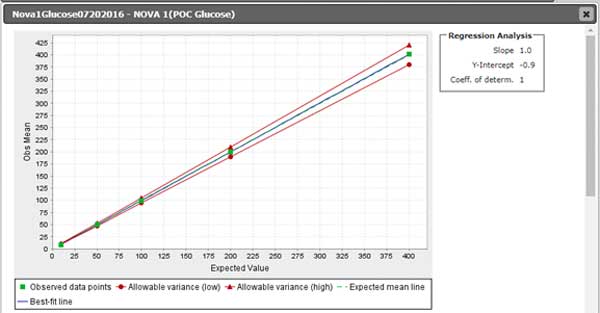 POCT data mining: Trellis offers user-friendly data mining tools with a menu of standardized report formats. In addition, users can create configurable, detailed ad hoc data queries to maintain inspection-readiness.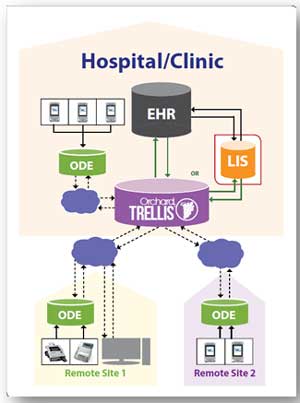 POCT connectivity: Handwritten processes and EHR manual entry for POCT results are eliminated with Trellis' POCT connectivity. Centralized device management and connectivity add efficiency for managers and operators through time reduction and patient safety improvements. Trellis connectivity allows POCT data to be included in analytics projects and population health management initiatives.
Superior connectivity for diverse POCT devices: The Orchard Device Engine (ODE) provides a secure method for connecting disparate devices and vendorware and is vendor agnostic, helping laboratories address the unique challenges of numerous diverse POCT situations. The ODE allows for rapid deployment across locations and monitoring from a central location.
Ensure POCT billing capture: Trellis supports automated capture of POCT billing to maximize reimbursements.
Flexible POCT implementation and deployment:
Orchard realizes that every lab situation is unique and each POCT device has varying capabilities. Trellis is flexible enough to meet unique POCT scenarios in both bedside testing and near-patient testing, including the option to work with your existing LIS. Trellis offers a high level of flexibility in its implementation to allow those managing POCT to oversee it from the convenience of a central location.