Meetings:
Webinars:
August 11, 2022
"Medical Laboratory Staffing: Where is Everyone?"
Rodney E. Rohde, PhD, SM(ASCP)CM, SVCM, MBCM, FACSc
*************************
August 12, 2021
November 13, 2020
August 15, 2019 Webinar
August 16, 2018 Webinar
August 17, 2017 Webinar
Officers | Mission
President:
Kathleen David, MT (ASCP)
Tri Core Reference Labs
Vice President:
Charlie Bismark, MT(ASCP) CPP, Intermountain Healthcare
Treasurer:
Katie (Katherine) Alsup
MT(ASCP)
TriCore Reference Labs
Secretary:
Ashlee Tezak
MB(ASCP)
Tricore Reference Labs
Board Members
Peggy Mann M.S. MT (ASCP) CPP, University of Texas Medical Branch
Steven Lee, MT(ASCP)
Parkland Hospital
Sid Strey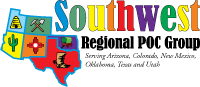 2022 Annual Meeting
The Southwest Regional POC Group Annual Meeting is pleased to announce that our 20th Anniversary will be held...
November 3-4, 2022
Embassy Suites by Hilton
Albuquerque, NM
Confirmed Speakers
Jean Ball,
CAP
Norman Moore, Abbott Infectious Disease division
Monique Dodd, Tricore Reference Lab
Kathleen David, Tricore Reference Lab
Attendees
RSVP Today: Click on image below
Room reservations:
Vendors
We seek your company's support for our face-to-face meeting after two years of resorting to virtual meetings to continue our tradition in a safe manner. The support of vendors has made the past SWRPOCG's annual meeting a huge success and has been an opportunity many Point of Care and Laboratory professionals look forward to attending.
This year's meeting is extra special as it is our 20th year anniversary! Time to celebrate! Your contribution to SWRPOCG's 20th year anniversary meeting November 3-4, 2022, in Albuquerque, New Mexico will enable us to continue this tradition.
SWRPOCG is a not for profit 501(c)(3) charitable organization that relies on your contributions to provide affordable educational and networking opportunities to individuals involved in the oversight of point of care testing. Your contribution this year will allow your company to participate in the vendor exhibits. This includes:
Separate vendor area set aside from the meeting space.

Dedicated exhibit time for participants along with prize drawings for participants who visit vendors. Limited spots are available with power connections if those will be needed for your display items.

Display table and draping.

Dinner on Thursday night with the SWRPOCG members for one vendor per company, additional dinners available for a fee
Your contributions are greatly appreciated and will be recognized on this webpage at and in our meeting agenda.
Sponsorship Levels:
| | |
| --- | --- |
| Sustainers | $3,000 or more |
| Benefactors | $2,000 to $2,999 |
| Sponsors | $1,000 to $1,999 |
| Donors | $500 to $999 |
| Contributors | $250 to $499 |

Click here or on the image to right to submit your Vendor Registsation form. In addition, other sponsorship opportunities are available.

If you are able to come forward as a sponsor, please fill out this form and scan to the email address listed on the form.
Please contact me should you have any questions. We're looking forward to seeing you in November!
Sincerely,
Kathleen David, President
SWRPOCG
kathleen.david@tricore.org
Group Mission: Point of Care patient testing is the largest expanding laboratory activity in the industry today. Patients and providers have access to laboratory testing results with short turn around time. Although these tests are simple, they must be accurate to assure quality patient care. Educational opportunities for individuals responsible for the administration of Point of Care Testing are limited in the Southwest. With the Southwestern region of the United States serving a large geographical and culturally diverse area, it is our goal to help provide education and networking resources for point of care coordinators and others associated with the point of care industry. Our goal is to enhance point of care for the patient through education and networking. Return to PointofCare.net Home Page • Last updated: 09/2/2020
Questions or corrections: Editor@pointofcare.net