Meetings:
Webinars:
August 11, 2022
"Medical Laboratory Staffing: Where is Everyone?"
Rodney E. Rohde, PhD, SM(ASCP)CM, SVCM, MBCM, FACSc
*************************
August 12, 2021
November 13, 2020
August 15, 2019 Webinar
August 16, 2018 Webinar
August 17, 2017 Webinar
Officers | Mission
President:
Kathleen David, MT (ASCP)
Tri Core Reference Labs
Vice President:
Charlie Bismark, MT(ASCP) CPP, Intermountain Healthcare
Treasurer:
Katie (Katherine) Alsup
MT(ASCP)
TriCore Reference Labs
Secretary:
Ashlee Tezak
MB(ASCP)
Tricore Reference Labs
Board Members
Peggy Mann M.S. MT (ASCP) CPP, University of Texas Medical Branch
Steven Lee, MT(ASCP)
Parkland Hospital
Sid Strey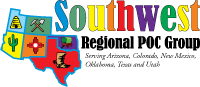 2022 Annual Meeting
The Southwest Regional POC Group Annual Meeting is pleased to announce that our 20th Anniversary will be held...
November 3-4, 2022
Embassy Suites by Hilton
Albuquerque, NM
Meeting Agenda
Thursday, November 3, 2022
[Download the Final Agenda - PDF]
| | |
| --- | --- |
| 12:00 | Registration desk will be open – walk ins accepted; includes a treat bag per registrant and dinner tickets with name badges |
1:00

Most Asked Questions
Jean Ball, MBA, MT(HHS), MLT(ASCP)
Sponsored by
Objectives:
1. Master the requirements for competency assessment
2. Learn options for documenting competency assessment
3. Share best practices with peers and a seasoned CAP inspector!
Contact Hours: 1.0 Hour

2:00

Performing POC Testing at Urgent Cares and Emergency Departments
Kathleen David MT(ASCP)
Sponsored by Tricore Laboratories
Objectives:
1. Describe the regulatory requirements for testing
2. Demonstrate collaboration with stakeholders to make decisions for operations
3. Design a working project plan
Contact Hours: 1.0 Hour

3:00

Snack Break with Vendors (Raffle tickets distributed by vendors at their tables)
Difference in Training and Competency
Kimberly Gibson, MLS(ASCP)CM
Sponsored by Intermountain Healthcare
Objectives:
1. Understand the difference between training and competency
2. Recognize training elements(CFR 492)
3. Recognize the 6 competency requirements for non-waived testing by CAP
Contact Hours: 0.5 Hours
4:30

Comparison of Manual recertification with Automated Recertification
Justin Maldonado, MLT(ASCP)CM,CPP
Sponsored by Tricore Laboratories
Objectives:
1. Manually recertify an operator in middleware
2. Setup parameters for automatic recertification in middleware
3. Monitor the automated recertification process in middleware
Contact Hours: 0.5 Hours

6:00

Dinner at El Pinto
Includes vendors & guests (RSVP required; ticketed item)
Directions: 10500 4th St NW, Albuquerque, NM
Meeting Agenda
Friday, November 4, 2022
| | |
| --- | --- |
| 7:30 | Friday/late Registration – walk ins accepted; there is no discounted fee for 'only Friday' |
| 7:30 | Breakfast for all Participants |
| 8:00 | General Membership Meeting/election/awards |
8:30

Epidemics Through the Ages
Dr Norman Moore, PhD
Sponsored by Abbott Rapid Diagnostics
Objectives:
1. Define what pathogens are responsible for some of the greatest global pandemics
2. Understand how many of these pandemics began and
3. Discuss how these pandemics impacted history
Contact Hours: 1.0 Hour

9:30

Staffing Models for POCT
Silka Clark MT
Sponsored by Accumen
Objectives:
1. Describe the three POC Optimization Opportunities within any size POC Program
2. Assess Standardization, Personnel and Test Utilization for a POC Program
3. Observe an example of targeted Process Improvement within a large POC Program to find the right-size POC Oversight and Right-Test POC Utilization
Contact Hours: 1.0 Hour

10:30

Morning Break – Industry Vendor Visits

11:00

Raffle Drawing & Resume Program

11:00

Patient-side Testing Through the Lens of Health Equity
Monique Dodd, PharmD, PhC, MLS(ASCP)CM
Sponsored by Rhodes Group
Objectives
1. Describe how patient expectations have evolved since the height of the pandemic
2. Describe the evolution of patient-side testing
3. Describe how point-of-care testing can support health equity
Contact Hours: 1.0 Hours
12:00

LUNCH and Vendor Time

12:55

Raffle Drawing and Resume Program

1:00

TBA Abbott

2:00

Upcoming Changes to CLIA Regulations That May Impact POC
Julie Aragon MT(ASCP)
Sponsored by Tricore Laboratories
Objectives:
1. Apply the changing technical consultant education requirements in the POC laboratory
2. Assess the impact of the proposed fee structure changes in their laboratory
Contact Hours: 1.0 Hour

3:00

Break

3:15

Clinical Significance of Key Blood Parameters at Various POC Locations
Desiree Dunnett, MBA, MLS(ASCP)CM
Sponsored by Siemens Healthineers
Objectives:
1. Recognize the clinical significance of common blood gas, metabolite and electrolyte parameters used to make patient care decisions
2. Review the concepts of "lab-accuracy" as it relates to POCT
3. Identify pre-analytical, analytical, and post-analytical considerations to minimize potential sources of error in POCT
Contact Hours: 1.0 Hour

4:15

Last door prize drawing/close of the fall annual meeting
Attendees
RSVP Today: Click on image below
Room reservations:
Vendors
We seek your company's support for our face-to-face meeting after two years of resorting to virtual meetings to continue our tradition in a safe manner. The support of vendors has made the past SWRPOCG's annual meeting a huge success and has been an opportunity many Point of Care and Laboratory professionals look forward to attending.
This year's meeting is extra special as it is our 20th year anniversary! Time to celebrate! Your contribution to SWRPOCG's 20th year anniversary meeting November 3-4, 2022, in Albuquerque, New Mexico will enable us to continue this tradition.
SWRPOCG is a not for profit 501(c)(3) charitable organization that relies on your contributions to provide affordable educational and networking opportunities to individuals involved in the oversight of point of care testing. Your contribution this year will allow your company to participate in the vendor exhibits. This includes:
Separate vendor area set aside from the meeting space.

Dedicated exhibit time for participants along with prize drawings for participants who visit vendors. Limited spots are available with power connections if those will be needed for your display items.

Display table and draping.

Dinner on Thursday night with the SWRPOCG members for one vendor per company, additional dinners available for a fee
Your contributions are greatly appreciated and will be recognized on this webpage at and in our meeting agenda.
Sponsorship Levels:
| | |
| --- | --- |
| Sustainers | $3,000 or more |
| Benefactors | $2,000 to $2,999 |
| Sponsors | $1,000 to $1,999 |
| Donors | $500 to $999 |
| Contributors | $250 to $499 |

Click here or on the image to right to submit your Vendor Registsation form. In addition, other sponsorship opportunities are available.

If you are able to come forward as a sponsor, please fill out this form and scan to the email address listed on the form.
Please contact me should you have any questions. We're looking forward to seeing you in November!
Sincerely,
Kathleen David, President
SWRPOCG
kathleen.david@tricore.org
Group Mission: Point of Care patient testing is the largest expanding laboratory activity in the industry today. Patients and providers have access to laboratory testing results with short turn around time. Although these tests are simple, they must be accurate to assure quality patient care. Educational opportunities for individuals responsible for the administration of Point of Care Testing are limited in the Southwest. With the Southwestern region of the United States serving a large geographical and culturally diverse area, it is our goal to help provide education and networking resources for point of care coordinators and others associated with the point of care industry. Our goal is to enhance point of care for the patient through education and networking. Return to PointofCare.net Home Page • Last updated: 09/2/2020
Questions or corrections: Editor@pointofcare.net