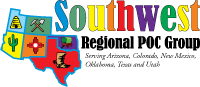 Officers
President:
Peggy Mann
M.S., MT(ASCP); University of Texas Medical Branch, Email
Vice President:
Kathleen David
MT (ASCP); TriCore Reference Labs, Email
Treasurer:
Katie (Katherine) Alsup
BUS, MT(ASCP); TriCore Reference Labs, Email
Secretary:
Debbie (Deborah) Oberst
MT(ASCP); Norman Regional Health System, Email
Board Members
Charlie Bismark
BS., MT(ASCP) POCTs (AACC); Intermountain Healthcare, Dixie Regional Medical Center, Email
Lynette Hall
TriCore Reference Labs, Email
Sid Strey
Kara Quig (Karalee) Quig
MT(ASCP) SCLHS St. Joseph Hospital, Email
Meetings:
November 2-4, 2017
Webinars:
SAVE THE DATES!

August 17

You are invited to join Sid Strey

and Charlie Bismark at our Whitehat Webinar featuring Marcia L. Zucker, Ph.D.

November 2-4

Our Fall Meeting will be in

Dallas/Plano, Texas!

The Southwest Regional POCC Group is proud to announce a joint conference to be held Nov 2-4, 2017

In conjunction with the AACC Texas Section, we are trying something a little different in Dallas/Plano, TX!

Keep checking back with us for further details

on housing and the program.

Hope to see y'all in November (when the average day temperature is 72o in case you are interested!)

Group Mission: Point of Care patient testing is the largest expanding laboratory activity in the industry today.

Patients and providers have access to laboratory testing results with short turn around time.

Although these tests are simple, they must be accurate to assure quality patient care.

Educational opportunities for individuals responsible for the administration of Point of Care Testing are limited in the Southwest. With the Southwestern region of the United States serving a large geographical and culturally diverse area, it is our goal to help provide education and networking resources for point of care coordinators and others associated with the point of care industry.

Our goal is to enhance point of care for the patient through education and networking.