KEYPOCC Grants and Scholarships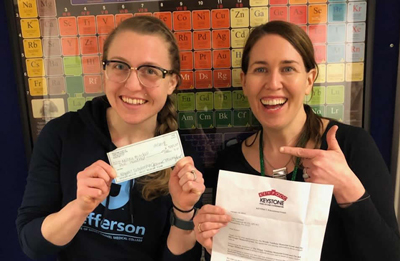 Kelsey Mitchell Recieves Wendy Van Slyke Memorial Grant!
KEYPOCC is pleased to announce the 2018 winner of The Wendy VanDyke Memorial Grant... It's Kelsey Mitchell who graduated from the Jefferson College of Health Professions in May 2018. Kelsey is shown above (left) with KEYPOCC Secretary, Lilah Evans, MT(ASCP), Thomas Jefferson, University Hospital.
Congratulations Kelsey!
KEYPOCC awards educational grants each year in June. The Wendy VanDyke and the Bill Sweger Memorial Grants are open to any individual seeking education as a clinical scientist. Grants are based upon specific standards established by the KEYPOCC Grant Committee.
The recipient selection process begins in January and the deadline for submission is April 30. Each applicant will learn of the Grant Committee's decisions by May 31.