KEYPOCC
Grants Awarded
Kelly DePaoli Receives
Bill Sweger Memorial Grant
On June 21, a $500.00 check was presented to Kelly DePaoli for the Bill Sweger Memorial Grant from the Keystone Point of Care Coordinators. Kelly is a third
shift Generalist at Penn State Hershey Medical Center and is pursuing her degree through Penn State University.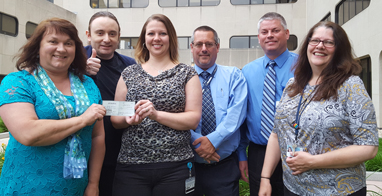 Shown left to right: Carrie Bell (POCC), Douglas Peltz (Night Shift Sr. Technologist), Kelly DePaoli (recipient), Thomas Stipe (Lab Manager), Chris Morrow (Operations Director), Civia Katz (Evening and Night Shift Supervisor). Photo credit – Sheryl Rose
---
Courtney Getz Receives
VanDyke Memorial Grant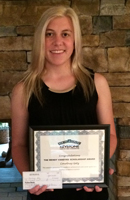 On June 27, a $500.00 check was presented to Courtney Getz for the Wendy VanDyke Memorial Grant from the Keystone Point of Care Coordinators.
Courtney is a Junior at West Chester University studying to become a Medical Laboratory Scientist and would like to get her Master's in Public Health or Business Administration.
---
Apply or Nominate a Peer for a KEYPOCC Scholarship
KEYPOCC awards educational grants each year in June. The Wendy VanDyke and the Bill Sweger Memorial Grants are open to any individual seeking education as a clinical scientist.
Grants are based upon specific standards established by the KEYPOCC Grant Committee.
The recipient selection process begins in January and the deadline for submission is April 30. Each applicant will learn of the Grant Committee's decisions by May 31.

Application requirements:
Completed and signed application

One page personal essay with title page

Copy of official transcript

Recommendation letter

All documents must be received together
2017 Meeting Information
March 30, 2017 (Thursday)
William H. & Mari0n C. Alexander Family Library , Meeting Rooms A & B
200 West Second Street
Hummelstown, PA 17036
(5 minutes from Hershey, PA)
---
June 30, 2017 (Friday)
Johns Hopkins Hospital
Room: Zayed 2117 Arcade
1800 Orleans Street
Baltimore, MD 21287
---
September 2017
Location: TBD
Speakers: TBA
---
December 12, 2017 (Tuesday)
Whitehat Webinar 12/12/2017
1:00pm | More
---
January Director Minutes Posted
---
Watch your emails for more details!
---
Featured Topics from our
June 16, 2016 Meeting:
Click on an image above or below to download slides
Presented by
Jeanne Mumford, MT(ASCP)
Pathology Supervisor, QA Specialist
Johns Hopkins Health System
---
About KEYPOCC
The purpose of the Pennsylvania-based KEYPOCC group is to form a collaborative network of point-of-care coordinators with a willingness to share information, ideas, and creative solutions to the unique challenges presented by the growth of point-of-care testing (POCT). More >