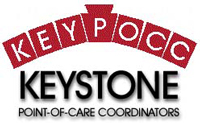 Membership Form
Updated February 2017
Member List
Member & Contact List
(Updated 06/09/22)
Want to be added to the KEYPOCC website and/or email list or have a change to your listing?
Vendor Sponsors
Updated September 2022
Director Minutes
May 20, 2022 Meeting
KEYPOCC News & Updates
2022 Officers

President:
Jeanne Mumford, MT(ASCP)
Johns Hopkins Medicine
Baltimore, MD | Email

Vice President:
Mickayla Karikari, MHA, MLS(ASCP)CM
Johns Hopkins Community Physicians, Baltimore, MD

Secretary:
Lilah Evans, MT(ASCP) Thomas Jefferson Hospital Philadelphia, PA| Email

Treasurer:
Meghan Quinn, Nemours Children's Health, Wilmington, DE
We are Face-to-Face in October!

October 28 at The Hotel Hershey
in historic Hershey, PA!
Our theme was...
'Team Building, Customer Support Skills,
and Work Force Retention!
December 2022 Webinar!
"Medical Laboratory Staffing:
Where is Everyone?"
Rodney E. Rohde, PhD, SM(ASCP)CM, SVCM, MBCM, FACSc
December 2021 Webinar!
Evaluation of
Point-of-Care and Rapid Tests for COVID-19:
The Mayo Clinic Experience

Brad S. Karon, MD PhD Professor of Laboratory Medicine and Pathology Chair, Division of Clinical Core Lab Services Mayo Clinic, Rochester MN

Thursday,
December 2, 2021
12:00 -2:00pm

Visit the Whitehat Communications
website to
LISTEN / WATCH RECORDING
KEYPOCC Gives Back!
Seeking education
as a clinical scientist?

Check out our...

Bill Sweger and
Wendy Vandyke
Memorial Awards!

Scholarship Committee Chair:
Meaghan Quinn, MLS (ASCP), Point of Care Coordinator
Alfred I DuPont Hospital for Children
About KEYPOCC:

One of the longest running POC Groups in the country, the purpose of the Pennsylvania-based KEYPOCC group is to form a collaborative network of point-of-care coordinators with a willingness to share information, ideas, and creative solutions to the unique challenges presented by the growth of point-of-care testing (POCT).
More >
Past Meetings and Webinars

2019

2018

2017

2016

2015

2014

2013

2012

2011

2010

2009

2008

2007

2006

2005

2004

2003

2002

2001

2000