---
POC Groups
WEB LINKS
---
---
---
---
Journal of Point of Care Testing
---
POC Meeting, Webinars, and Events Calendar

2014
Mar
Apr
May
Jun
Jul
Aug
Sep
Oct
Nov
Dec
POCT NEWS
---
POCT Coordinator
of the Year Award Applications
Due March 15!
Nominate a Peer, or Yourself, Today!
Click here for details
---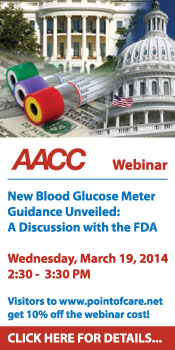 ---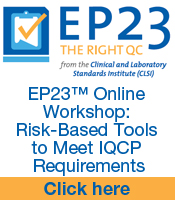 ---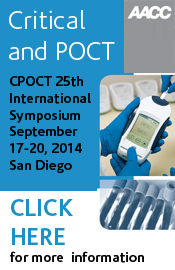 ---
---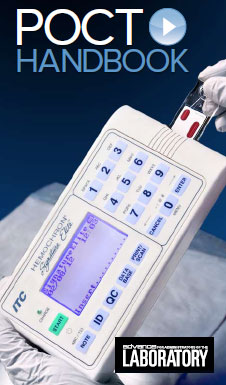 Diabetes debate: HbA1c or Glucose?
By Anne Paxton, CAP Today, February 2013

If it were a boxing match, the debate over whether hemoglobin A1 c should be used to diagnose diabetes would place the odds-on favorite in the "Yes" corner. In the "No" corner would be the underdog. At least based on the mainstream consensus since 2010, HbA1c for diagnosis is well established as an alternative to measuring glucose.
At the July 2013 meeting of the American Association for Clinical Chemistry, where opposing sides on this question squared off in a debate, a quick vote beforehand showed "Yes" with a 20-to-one edge. But the speakers came armed with provocative data on comparative benefits and drawbacks, and both sides scored solid points.
---

---
Most of the debate centered on two questions: Which is more accurate, HbA1c or glucose? And with regard to diagnosing diabetes and predicting risk of complications, what are the most important things to measure anyway? "Even though we've been measuring glucose in blood for 100 years, the question that comes up is: How accurate is a glucose result?" said moderator David Sacks, MB, ChB, FRCPath, senior investigator with the National Institutes of Health, in introductory remarks before the debate.

Not only is there the usual preanalytical and analytical variation, but there is also large biological variability among people and even within a single person, he pointed out. "That means for every one of you sitting here, if you are healthy, your fasting plasma glucose can have a coefficient of variation of up to 8.3 percent between today and tomorrow, even if everything's the same."

HbA1c is not a perfect alternative, but since 1993, when the NGSP (formerly the National Glycohemoglobin Standardization Program) launched efforts to standardize HbA1c, there has been a huge improvement in the assay, Dr. Sacks said. "The means are much closer to the target, and the standard deviations have been reduced considerably. So while HbA1c is not perfect, it's getting progressively better over time." More >
FDA Issues Draft Guidance on Glucose Meters
AACC Education Update, Issue #66, January 23, 2014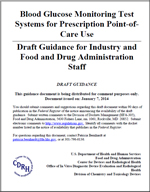 How accurate does a point-of-care (POC) blood glucose meter need to be, and should those used in the hospital setting (in tight glycemic control protocols, for example) be held to a different standard than those sold over the counter for home use?
With the release of two draft guidance documents—one for blood glucose POC devices used in clinical settings and one for blood glucose POC devices manufactured for home use—the Food and Drug Administration (FDA) is proposing that there be two sets of standards.
The FDA documents address such issues as infection control, device accuracy, study design and labeling, and the agency is seeking comments on these draft guidance documents through April 7th. Instructions on how to submit a comment to the FDA are included in the PDFs, but you can also ensure that your voice is heard via AACC by sending your comments to AACC's Government Affairs Director, Dr. Vince Stine, at vstine@aacc.org.