An Uneasy Dance with POC Glucose in the ICU
By Anne Paxton, CAP Today, October 2013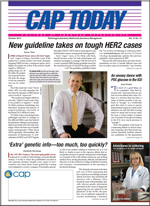 "Too much of a good thing can be wonderful," Mae West famously said. And some feel our culture of excess reflects that value. Perhaps as a reaction there has been a surge of interest recently in the embrace of "enough" as a worthwhile goal. But when it comes to precise measurement of glucose values in the intensive care unit, the often-warring needs for speed and accuracy make the issue a critical matter of patient care. For point-of-care glucose testing in the ICU, how much precision is "enough"?
That's the question at the heart of a simmering debate in clinical chemistry. In January, the Clinical and Laboratory Standards Institute released new guidelines for the appropriate uses of POC blood glucose testing in the hospital, including performance standards for the glucose testing devices (Point-of-Care Blood Glucose Testing in Acute and Chronic Care Facilities; Approved Guideline—Third Edition, POCT12-A3). The International Organization for Standardization has also issued new performance standards for home testing.
At the same time, the Food and Drug Administration has expressed reservations about use of the POC devices in treating critical care patients, with new FDA guidelines reportedly in the works. Particularly controversial has been the whole area of point-of-care glucose testing in the ICU because of one of its major uses: tight glycemic control.
"There have been questions about the impact of tight glycemic control on patients probably since the protocol took hold a decade ago," says Timothy R. Hamill, MD, vice chair of the CAP Point-of-Care Testing Committee and director of clinical laboratories at the University of California, San Francisco. "Initially, the idea was that if you keep glucose levels tightly controlled—below 100 mg/dL and even down to the 70s—there will be fewer infections, decreased morbidity, and lower length of stay."
But about five years ago, a growing number of questions were raised about whether the glucose meters were sufficiently accurate to make the protocol work. "Around 72 mg/dL, if you were off by 10 or 20 points, that could be a real problem. Then more recently, some papers have appeared suggesting that really tight glycemic control, less than 100, has been associated with improved outcomes in a lot of patients but a higher incidence of hypoglycemia."
So a rethinking process has been underway, Dr. Hamill says. In June 2012, the American College of Physicians recommended a more modest protocol with glucose kept at 140 to 200 mg/dL. At that level, he points out, there will be less trouble with a result that is off by 10 mg/dL.
But amid that shift in approach, fresh alarm was sparked last year when the FDA told Roche Diagnostics that its new glucose meter had to include a packet insert saying it was not approved for use with critically ill patients. While the FDA backed off after receiving a flood of comments, the agency still requires a notice that the devices have not been evaluated on critically ill patients, and it is reportedly working on tighter guidelines in that regard.
The accuracy of the meters has been improving. The devices are exhibiting less cross-reactivity with other sugars, and less variability of results, and are typically about plus or minus 10 percent, Dr. Hamill notes. But there has been continuing worry about the meters' not being sufficiently accurate for use with critically ill patients. "The FDA and the Centers for Medicare and Medicaid Services said we haven't evaluated these in critically ill populations, and I think they were saying we haven't evaluated these specifically for managing TGC in a critically ill population." more...